HOSPITALITY ON CALL is the largest and most professional temporary hospitality and food service personnel staffing company in Texas. We have a register of over 2,000 experienced hospitality employees. We provide personnel on a temporary, temp to perm, payroll, permanent and professional placement basis.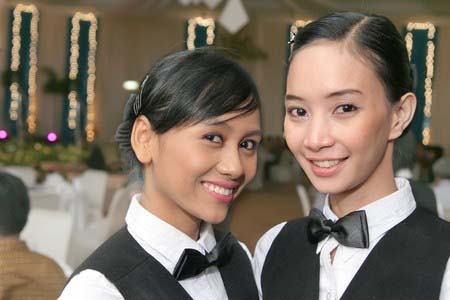 Temporary Placement Program
As a leader in the hospitality personnel employment industry, HOSPITALITY ON CALL recognizes the importance of not just staffing hospitality and food service assignments but offering a quality temporary staffing program. Our professional hospitality and food service managers work diligently to deliver quality personnel to our customers in the numbers needed and with the best customer service in the industry. We also work hard to create relationships with our employees. By establishing mutual trust, respect, and confidence between our staffing managers and our temps, we become a team that works together to meet and exceed customer standards and expectations. Simply put, HOSPITALITY ON CALL is out to impress that we're the best!
Banquet Captains
Banquet Servers
Bar backs
Bussers
Cooks (All Types):
– Lead Cooks
– Line Cooks
– Saute Cooks
– Sauciers
– Grill Cooks
– Fry Cooks
– Prep Cooks
– Bakers
Chefs
Sous Chefs
Carvers
Cocktail Waitresses
Catering Assistants
Concessionaires
Dishwashers
Event Attendants
Food & Product  Demonstrators
Food Production
Food Distribution
TABC Bartenders
Front Desk Personnel
Golf Club Personnel
Grocers Personnel
Housekeepers
Laundry Attendants
Housekeepers
Houseman
Bathroom Valets
Janitors
Lobby Attendants
Host & Hostesses
Hotel Night Auditors
Private Parties
Room Service Attendants
Sommeliers
Stewards
Waitpersons
Wine Pourers
Promotional Representatives
Brand Ambassadors
Event Attendants
Set Up/Breakdown/Clean
Greeters
Door Personnel
Security Personnel
General Laborers
Select Corps
We have a register of highly skilled Hospitality professionals that include Maitre d's, Wait/Event Captains, Sommeliers, Ice Carvers, Chefs, and Bartenders who are available to work VIP Events, High Profile functions, Private Parties or VIP tables at large events.
For more information please contact us.
Banquet Captains
VIP Servers
VIP Bartenders
Private Party Professionals
Chefs
Catering Assistants
Sommeliers
Ice Carvers
Dishwashers
Party/Event Clean Up
Greeters
…and more!
Chefs
Souse Chef
VIP Bartenders
Private Party Professionals
Catering Assistants
Sommeliers
Ice Carvers
Dishwashers
Party/Event Clean Up
Greeters
…and more!
Hospitality Professional Placement Services
The emphasis and mission for HOSPITALITY ON CALL PPS (Professional Placement Services) is to successfully search and recruit professional hospitality and food service managers, supervisors, and culinary professionals.
We execute search and fulfillment assignments locally, regionally, nationally and internationally for:
Hotels, Restaurants, Food Service Companies, Country Clubs, Hospitals, Grocers, Caterers, Food & Beverage Production Companies, Retirement Facilities, Transportation, Entertainment, and Travel & Tourism.
We are now hiring – apply today!
Interested in working for TPS? We invite you to apply online, call us, or stop by our offices in downtown Austin.
Our current openings include baristas, bartenders, bar-backs, cashiers, servers, cooks, dishwashers, and housekeepers.